This is a 4 hours course. In this course, you will learn - Grammar - Tense - Nouns and verbs - Sentence formation.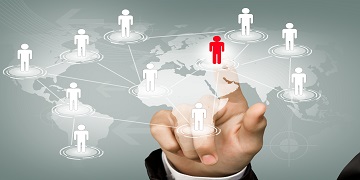 Basic Online Communication Courses
All animals communicate right after their birth, in one way or another, to fulfil their needs, survive, and grow.
We have now evolved and developed multiple ways to communicate w.r.t scripts, language, gestures, mediums etc. The communication process flows from a sender to a receiver, and the measure of communication effectiveness is always the receipt of the intended message that was delivered.
However, in the current era of global communication and networking, a common language to connect all corners of the world has become essential. With this context in focus, developing our efficiency in English is pertinent to spreading our reach.
The module of an introductory online course for communication skills goes back to the roots of the English language and focuses on learning its foundations. Most of the module explores the various components of English grammar and vocabulary.
Following are the sections that the module deals with:
1. Fundamental rules of communication
Sentence
Clauses and their types
Phrase
Articles
Nouns and their types
Pronouns and their types
Verb and its types
Tenses
Adjectives
Adverbs and their types
Prepositions
Conjunctions and conjunction pairs
Common communication errors
Communication process
Communication pyramid
Post assessment
Apart from grammar and vocabulary, the Online Communication Courses module provides context to certain basic concepts of communication, such as trust, bias, how to say and how much to say, and when to say, amongst other things.
While learning grammar and vocabulary may seem basic, it sets the right background to dive deep into exploring and practising other concepts of the online course for communication skills, which will be dealt with in further modules.
This module also works as an excellent revision of what we already know about communication but what we may need to practice consciously. The module of best online courses to improve communication skills ends with a Post Assessment section for self to evaluate and assess progress based on learning that has been achieved.
Courses
Learn, switch, and advance your career with MindParkour's Basic Online Communication Courses, post certificate, and mentorships from world-class educators. These courses are ideal for aspirants who want to start their careers or enhance their skills in the corporate sector. We aim to create opportunities, space and scope for the development of young Indian youth!
Features of Online Communication Courses
Premium video tutorials
Certified instructors
Personalised learning
Recurring Certifications
Learn at your own pace
Automated learning plans
Practice sessions
Regularly updated content
What will you learn from this course?
Build your basic communication skills with Mind Parkour. We have curated a series of programmes for effective communication to support aspirants in establishing error-free interactions and making an impact. From our best courses for communication skills, participants can learn to
Expand their communication capability and establish impactful interactions.
Smoothen verbal communication, virtual presentation, self-pitching, and public speaking.
Easily communicate complex messages.
Improve teamwork and collaborative mindset.
Increase patience and boost confidence & persuasive capacity.
Master the techniques to thrive in complex situations.
Who can take this course?
Anyone who wants to enhance and strengthen their communication skills and abilities, especially verbally
Junior executives
Those who are averse to public speaking and presentations
Students
Those who find communicating and presenting difficult
Speakers of any age who lack experience
Course Outcomes
The study of communication online course focuses on how individuals construct and convey meaning from messages within and across contexts. The field of study employs humanistic, aesthetic, and social scientific inquiry to analyse all forms, modes, media, and communication outcomes.
Best courses for communication skills help individuals build their social environment. It encourages individuals to develop and nurture relationships and participate in civic interests. One can advance in their career if they have good communication skills. Eventually, with effective communication skills, any individual can influence their private and public lives in all aspects.
Once a student gets certified in the Basic Online Communication Courses at MindParkour, they are expected to be able to:
Develop communication-related knowledge, abilities, and perspectives to collaborate more effectively with others.
Acquire knowledge and application of communication theory.
Recognise the various forms of communication and messages critically and put them into practice.
Effective writing for a range of contexts and audiences.
Engage in effective and moral communication.
Follow and practice the 7Cs of communication learnt from the online course for communication skills.
Find out more about the different modes of communication.
Create and deliver polished presentations professionally.
Know the proper interview etiquette and put it into practice.
Understand how diversity, power, and access influence communication.
Develop your communication style

Unlimited

Module format

Unlimited
Module Coverage

Unlimited
Introduction
Unlimited
Understanding Communication

Unlimited

Understanding Communication

Unlimited

Takeaway

Unlimited
Current Awareness-Listening
Unlimited
Current Awareness-Writing
Unlimited
Current Awareness-Speaking
Unlimited
Current Awareness-Reading
Unlimited
Grammar and Vocabulary – Basics

Unlimited

Sentence

Unlimited

Sentence

Unlimited

Activity Card -Identify and complete sentences

Unlimited

Identify complete sentences- Answer key

Unlimited

Activity Card -Complete the sentences

Unlimited

Complete the sentences-Answer Key

Unlimited

Clause

Unlimited

Activity Card-Clause

Unlimited

Clause – Answer Key

Unlimited

Activity Card – Clause

Unlimited

Phrase

Unlimited

Activity Card -Phrase

Unlimited

Phrase – Answer Key

Unlimited

Article

Unlimited

Activity Card -Article

Unlimited

Article-Answer Key

Unlimited
Parts of speech – Nouns
Unlimited
Activity Card – Nouns
Unlimited
Nouns – Answer Key
Unlimited
Nouns – Answer Key
Unlimited
Parts of speech-Pronouns

Unlimited

Parts of speech -Pronouns

Unlimited

Pronouns – Answer key

Unlimited

Parts of speech- Pronouns

Unlimited

Pronouns-Answer Key

Unlimited

Parts of Speech – Pronouns

Unlimited

Pronouns – Answer Key

Unlimited

Parts of Speech – Pronouns

Unlimited

Parts of Speech – Pronouns

Unlimited

Pronouns – Answer Key

Unlimited

Parts of Speech – Pronouns

Unlimited

Pronouns Answer Key

Unlimited
Parts of Speech – Verb
Unlimited
Activity Card- Verb
Unlimited
Verb – Answer Key
Unlimited
Parts of Speech – Verb
Unlimited
Parts of Speech – Verb
Unlimited
Activity Card- Verb
Unlimited
Verb – Answer Key
Unlimited
Parts of Speech – Tenses of verb

Unlimited

Parts of Speech – Tenses of verb

Unlimited

Parts of Speech – Tenses of verb

Unlimited

Parts of Speech – Tenses of verb

Unlimited

Tenses of verb – Answer Key

Unlimited
Parts of Speech – Adjective
Unlimited
Activity Card – Adjective
Unlimited
Adjective – Answer Key
Unlimited
Parts of Speech – Adverb

Unlimited

Parts of Speech – Adverb ×

Unlimited

Parts of Speech – Adverb ×

Unlimited

Activity Card- Adverb

Unlimited

Adverb – Answer Key

Unlimited
Parts of Speech – Preposition
Unlimited
Activity Card – Preposition
Unlimited
Activity Card – Preposition
Unlimited
Activity card Preposition
Unlimited
Preposition – Answer Key
Unlimited
Activity Card-Preposition

00:03:00
Parts of Speech – Conjunctions
Unlimited
Parts of Speech – Conjunctions
Unlimited
Activity Card- Conjunctions
Unlimited
Conjunctions – Answer Key
Unlimited
Common sentence errors

Unlimited

Common sentence errors

Unlimited

Common sentence errors ×

Unlimited

Activity Card – Common sentence errors

Unlimited

Common sentence errors – Answer Key

Unlimited

Common sentence errors

Unlimited

Common sentence errors

Unlimited

Common sentence errors

Unlimited
Communications – Basics
Unlimited
Communication – Activity ×
Unlimited
Communication – Activity
Unlimited
Communication – Activity
Unlimited
Communication Process

Unlimited
Communication Pyramid
Unlimited
Communication Pyramid
Unlimited
Communication Pyramid – Trust
Unlimited
Communication Pyramid – Trust
Unlimited
Communication Pyramid – Trust
Unlimited
Bias – That impedes trust
Unlimited
Bias – Activity
Unlimited
Bias – Activity
Unlimited
Activity: Identify the one that does not exhibit trust
Unlimited
Activity: Identify the one that does not exhibit trust
Unlimited
Building Trust
Unlimited
Communication Pyramid
Unlimited
Communication Pyramid – Controlled Disclosure
Unlimited
Trust and information quadrant
Unlimited
"The Hidden" Quadrant
Unlimited
"The Open" Quadrant
Unlimited
"The No Trust" Quadrant
Unlimited
"The Trouble" Quadrant
Unlimited
Activity Card
Unlimited
How much to say
Unlimited
How much to say – Information
Unlimited
How much to say – K.I.S.S
Unlimited
How much to say – K.I.S.S
Unlimited
How much to say – K.I.S.S
Unlimited
Activity Card – K.I.S.S
Unlimited
K.I.S.S – Answer Key
Unlimited
Case Study – How much to say
Unlimited
Communication Pyramid ×

Unlimited

Activity – When and where to say

Unlimited

Conversation / How much to say / When / Where

Unlimited

P-P-F-P

Unlimited
Communication Pyramid
Unlimited
Activity Card – Vocabulary
Unlimited
Vocabulary – Answer Key
Unlimited
Vocabulary – Answer Key
Unlimited
Reading
Unlimited
Listening
Unlimited
Writing
Unlimited
Speaking
Unlimited
Activity Card – Vocabulary
Unlimited
Vocabulary – Answer Key
Unlimited
Vocabulary – Tips
Unlimited
Communication Pyramid

Unlimited

Individualizing

Unlimited

Individualizing

Unlimited

Individualizing – Rules

Unlimited

Individualizing – Platinum Rule

Unlimited

Thank you

Unlimited
Propelled Awareness
Unlimited
Propelled Awareness
Unlimited
Propelled Awareness
Unlimited
Propelled Awareness
Unlimited